Career development stories of our employees
At Rosendahl Nextrom our aim is to support our employees to develop their expertise within the same team or sometimes by transferring to another team and to a completely different role. Here our employees Joonas and Markus who have both started their career as Process Engineer, tell about themselves and share their career stories.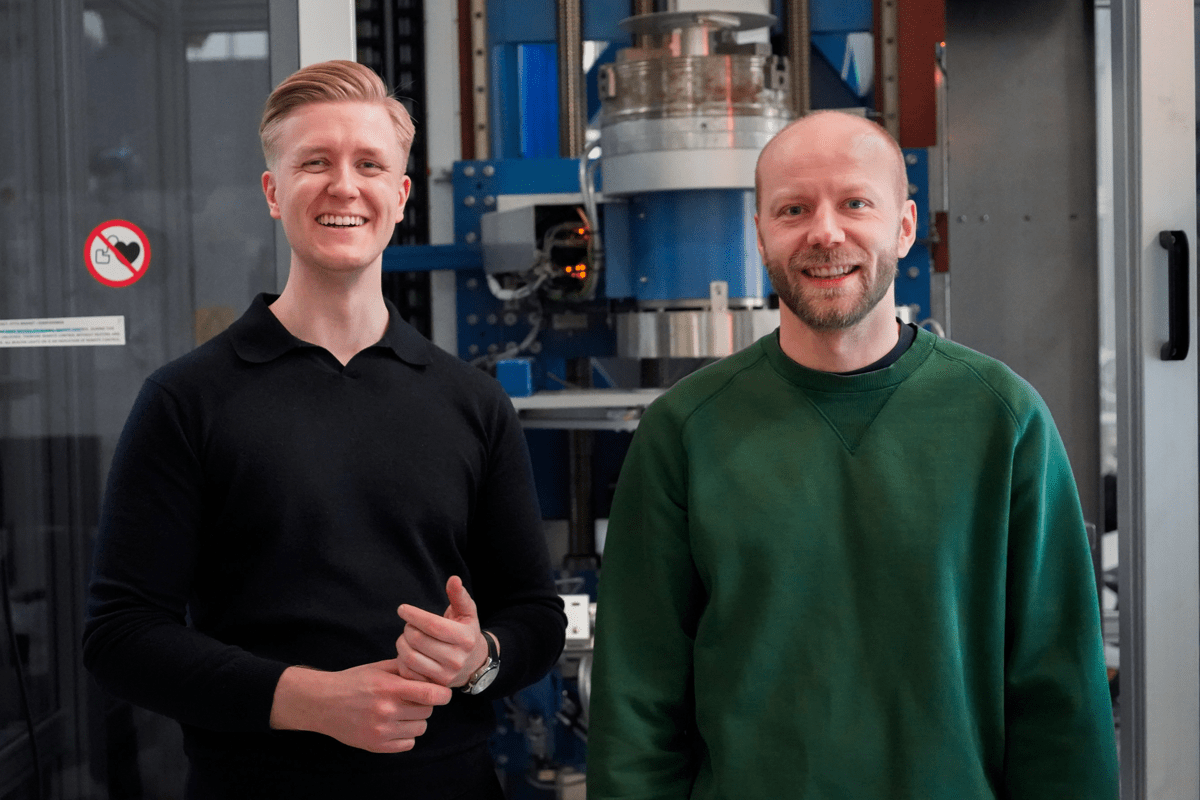 Read how our Lead Process Engineer Joonas Ilmarinen tells about himself, his job and what he likes about it.
My background in a nutshell
Graduation to Bachelor of Engineering in Material and surface treatment degree in 2007, Final thesis: Haze and control thereof in glass modified by liquid flame spray
Previous work experience as Process Engineer in different companies for seven years (hot aerosol coating & functional glass coatings and hot aerosol coating & functional glass coatings, CVD)

Started at Nextrom in 2013 (Fiber draw telecom & Special fibers, Sand cladding, OVD)

Outside of work I spend a lot of time with family and friends. I have two, eleven, and fifteen year old children. Sometimes it's challenging to balance the schedules, but I get lot of support from my family, and also from Rosendahl Nextrom. During my own time, I might be at the garage fixing bike or motorcycle and drinking beer with my friends. To stay healthy, I'll practice Chi Kung and Shaolin Kungfu.
My career story
In 2013 I started at Rosendahl Nextrom as a fiber draw Process Engineer. The industry was new to me, and I didn't know anything about fiber optics, at that point I actually thought that optical fiber was hollow. After few weeks of studying, I started to get on track. My first commissioning trip was at Autumn 2013, and I had a change to go to Japan. That was a great experience and a great chance to learn a lot about the process and commissioning work at Rosendahl Nextrom. During commissioning there is a special chance to learn to know your colleagues and it's easy to keep your full focus on the work. Commissioning work is absolutely the best way to learn our machines and processes. After the first telecom project commissioning, I took part to a special fiber tower commissioning.
In addition to fiber draw process engineering at Rosendahl Nextrom, I have worked as a Lead Engineer and worked with OVD and sand cladding processes. It has been great opportunity to learn from skillful and experienced engineers about the work. I have had a change to visit China, Japan, USA, India, South-Korea and multiple European countries. Customers on Special fiber projects are usually much different than on the telecom side. Some customers are very experienced in this field and some start from zero. With customers who are new to the area, focus is more on training and basic things. In cases where the customer is more experienced, there is often higher production pressure by the customer and the scope of the work is different.
Nowadays my work is mostly project follow-up, answering the questions from customers, planning and performing trials, sometimes guiding new employees, documentation and process tests. While writing this, I am sitting at airplane coming back from customer where we were preparing an upcoming project. We went through the schedule, process issues and practical things to ensure as smooth as possible installation and commissioning in the project.
My typical work day includes answering questions by email or face to face with colleagues, one to two meetings related to upcoming trials or projects, and working at fiber drawing lab or preform lab.
Most inspiring at Rosendahl Nextrom is to work with challenges and find a way to overcome them, learning new things, and of course work community itself. Sometimes I need to break old habits to stay fresh and open-minded, like in arranging time for documentation. I dare to say that I learn something new every day in my work. In my opinion, experience brings insight into things, and in practice it shows as an ability to take various factors comprehensively into consideration.
Read how our Project Manager Markus Paakkunainen tells about himself, his job and what he likes about it.
My background in a nutshell
Graduation with Bachelor's Degree in Materials Technology in 2018
Previous work experience as a Process Engineer in different companies for 3 years

Started in current position in December 2021

I work at Rosendahl Nextrom Oy as a Project Manager, focusing on fiber optic cable production line projects, more familiarly FOC (Fiber Optic Cables). I didn't have any previous work experience as a Project Manager before my current position, so the training has included lot of new things and experiences. The product area however was familiar to me since I had previously worked in the same area in a different position. As a social and enthusiastic person, I feel that I am in the right place in my current role.
Currently my home is in Espoo, and I spend my free time quite traditionally: I go to the gym, sometimes mountain biking (Company sponsoring with the bike benefit), play the guitar and spend time with my friends.
My career story
I graduated as an Engineer in materials technology from Lahti University of Applied Sciences in 2018, specializing in polymer and fiber technology. My studies did not go according to the traditional formula, but I tried a lot of different options and tried to find my own route, because at that time I didn't know for sure what I wanted to do after my studies. The main focus of my studies was in technology, but I also studied lot of sales and marketing.
After my studies, I got my first job at Rosendahl Nextrom as a Process Engineer, where my responsibility was the commissioning of fiber optic cable lines in customers' factories around the world. At the same time, my personal life also underwent a transformation when I moved to the Helsinki metropolitan area, and for the first time outside my hometown, Lahti. I enjoyed working as a Process Engineer at Rosendahl Nextrom for about one and half years, after which I worked two years in the manufacturing industry, as a Process Engineer as well. I returned to Rosendahl Nextrom in December 2021 when I noticed an open Project Manager position and decided to apply for it. I was interested in the role already on the first time I was working for Rosendahl Nextrom, but life took me elsewhere for a while. My previous experience in the field has naturally made it easier for me to start in a new position as Project Manager, but I still feel that the support I have gotten from our own team has definitely been the biggest help in absorbing the new role.
My current role as a Project Manager includes:
Rough planning of project schedule
Coordination work with different teams

Budget and schedule monitoring

Customer communication

Reporting to the management

In short, I lead and take care of the projects assigned to me from start to finish.
My day often consists of:
Communication with different internal and external parties via email/ Teams/ phone
Joining/ hosting internal follow-up meetings

Customer meetings

Solving problems

Making decisions on project related matters

Development of project process

The work is challenging and nice at the same time. My workday often includes rapid changes and challenges in fast-phased project industry with many variables, but also a lot of laughing at the coffee table with colleagues or through Teams with customers. Each job has its ups and downs and that's why it's important to know how to reset your brain and cool down at time to time. The peer support and atmosphere were the main reasons why I returned to Rosendahl Nextrom.
I prefer working face-to-face instead of email communication, so I like to go around the office and discuss things. We have been offered a fair remote work opportunity, but I don't use it that often since I prefer working from the office. The contacts within the company and with customers are definitely the best part of my job. Okay, in all honesty, I don't complain about occasional business trips either, but it depends a lot on your own preferences how much you like to travel.